Ducati Monster Price in Nepal with specifications
Ducati is on the list of most expensive bikes available in Nepal. It is an Italian bran that is very popular in Nepal. But the popularity raised even more after a superstar of Nepal, Anmol K.C bought a Ducati bike. Furthermore, we will be talking about a very attractive model of ducati ie Ducate monster.
This model is available in 7 variants in Nepal. The price of this bike model starts from Rs 19,50,000 and goes up to Rs 36,00,00. Here is a list of available monster bikes in Nepal with their price.
Price of Ducati Monster Bikes In Nepal
| | |
| --- | --- |
| Monster 821 Stripe | 26,00,000 |
| Monster 821 | 24,00,000 |
| Monster 696 | 19,50,000 |
| Monster 796 | 21,50,000 |
| Monster 1200s | 34,00,000 |
| Monster 1200s Stripe | 36,00,000 |
| Monster 1100 EVO | 25,00,000 |
Yes they are on the pricey side but they are very powerful. It is one of the best bikes in the world. the specification of the variants of monster are as follows:
Monster 821 Stripe
| | |
| --- | --- |
| Displacement | 821 cc |
| Max power | 82.4 Kw/112 hp @ 9250 rpm |
| Max torque | 89.4 Nm/ 9.1 kgf- m/ 65.8 lb-ft @ 7750 rpm |
| Compression ratio | 12.8:1 |
| Fuel Capacity: | 17.5 l |
| Weight: | 205.5 kg |
| Transmission | 6-speed |
Monster 696
| | |
| --- | --- |
| Displacement | 696 cc |
| Max power | 58.8 Kw/78.8 hp @ 9000 rpm |
| Max torque | 69 Nm/ 7 kgf- m/ 50.9 lb-ft @ 7750 rpm |
| Compression ratio | 10.7:1 |
| Fuel Capacity: | 15 l |
| Dry Weight: | 161 kg |
| Transmission | 6-speed |
Monster 796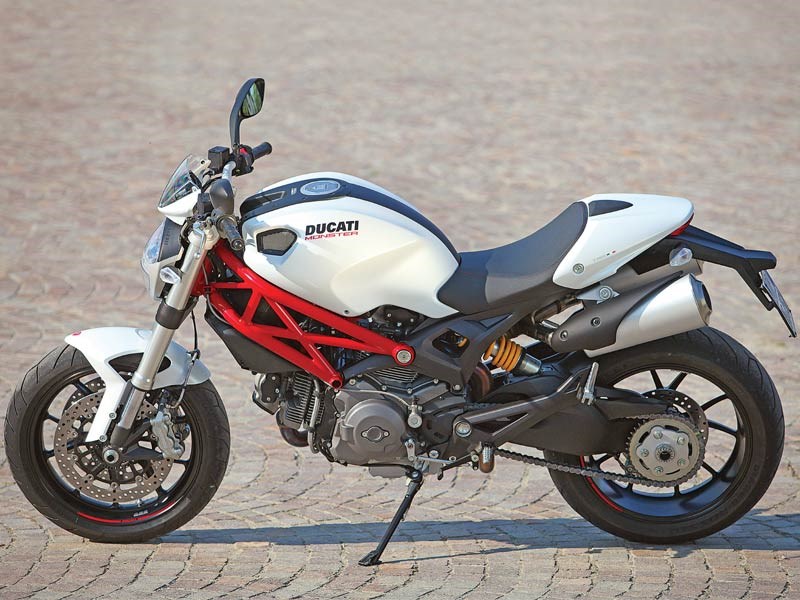 | | |
| --- | --- |
| Displacement | 803 cc |
| Max power | 64 Kw/87 hp @ 8250 rpm |
| Max torque | 78.5 Nm/ 8.0 kgf- m/ 58 lb-ft @ 6250 rpm |
| Compression ratio | 11:1 |
| Fuel Capacity: | 15 l |
| Dry Weight: | 167 kg |
| Transmission | 6-speed |
Monster 1200 s Stripe
| | |
| --- | --- |
| Displacement | 1198 cc |
| Max power | 106.6 kW (145 hp) @ 8,750 rpm |
| Max torque | 124.5 Nm (91.8 lb-ft) @ 7,250 rpm |
| Compression ratio | 12.5:1 |
| Fuel Capacity: | 17.5 l |
| Dry Weight: | 182 kg |
| Transmission | 6-speed |
Monster 1100 EVO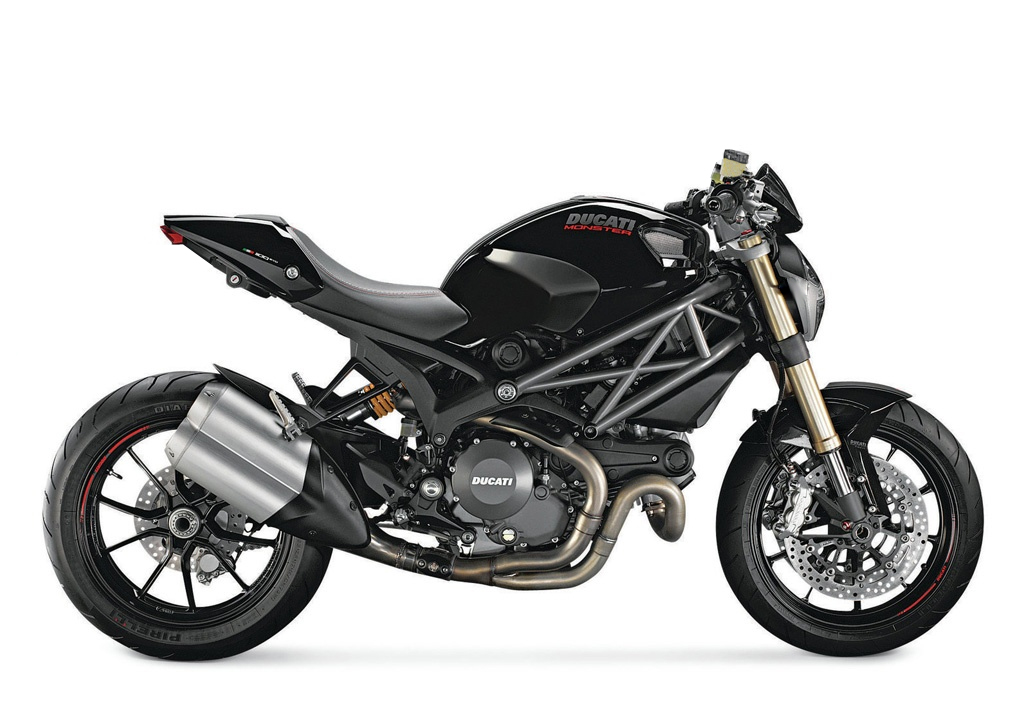 | | |
| --- | --- |
| Displacement | 1078 cc |
| Max power | 73.5 Kw/100 hp @ 7500 rpm |
| Max torque | 103 Nm/ 10.5 kgf- m/ 76 lb-ft @ 6000 rpm |
| Compression ratio | 11.3:1 |
| Fuel Capacity: | 13 l |
| Wet Weight: | 188 kg |
| Transmission | 6-speed |
Also check out: Benelli bikes price in Nepal| 2020 Update