Bajaj Auto is the world's sixth-largest manufacturer. It is a popular motorbike brand in Nepal. The Pulsar 200 NS is a famous model of bajaj. The bike has very attractive looks. Similarly, it has a naked sporty look that attracts many youngsters. It is powered by 199.5 cc, Liquid Cooled, Petrol engine. Likewise, it can produce a power of 23.8 bhp @ 9,750 rpm and torque of 18.5 Nm @ 8,000 rpm. In this article, we will talk about which tyres will be the best of this bike.
Bajaj Pulsar 200 NS has tubeless tires. The measurements of the tires are 100/80-17″ 52 P in the front and 130/70-17″ 62 P in the rear. There are so many tires brands available for pulsar 200 NS. Brands like MFR, Michelin, Apollo and more fits perfect for the bike. Many people may not know this but the front and rear tyres should always be different. The tread patterns are different in front and rear tyres. Here is a list of tires that are best for the pulsar 200 NS in Nepal.
Best brand of tyres for Bajaj Pulsar 200 NS
MFR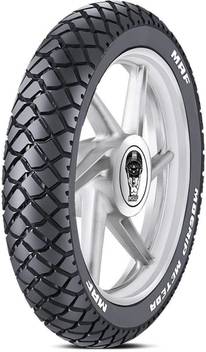 MFR is a popular tire brad in Nepal. It is also one of the cheapest Tyres available in the market. MFR's models like Revz S, Zapper S, Zapper Q, Zapper FY2 etc are great for front tires as well as rear tyres.
Pirelli
Pirelli is another popular brand of tires in Nepal. They are famous for their good quality and durability. Angel City, SPORT DEMON, Sport Dragon and DIABLO ROSSO II are good for the front tires. Likewise, Angel City, SPORT DEMON, Sport Dragon are goof for the rear tires.
Michelin
Next on the list is Michelin. It is also one of the cheapest tyres brands. Michelin is famous for high reliability and comfort. however, It may not be a good choice for very bad roads. Moreover, Michelin Pilot Street is a great model for pulsar 200 NS.
TVS Tyres
TVS bikes are very popular and so are their tyres. The tyres mostly suit TVS bikes but work wonders in Bajaj pulsar 200 NS. Eurogrip PORTORQ SPORT SR, Eurogrip ATT 455 (R) goes great with Pulsar 200.
Also check out: Mileage of Bajaj bikes with price